We are excited to announce that Mixpost PRO is now available for early adoption!
As a valued subscriber, we would like to offer you the opportunity at a discounted price before its official release.
Mixpost - Self-hosted social media management software
For a single one-time payment, you will get LIFETIME free updates.
To take advantage of this opportunity, simply visit our website https://mixpost.app/pricing and purchase the early adopter deal. Don't miss out on this exclusive offer – it's only available before lunch!
Whether used as a standalone app or integrated into a Laravel project, Mixpost is ideal for bloggers, artisans, and entrepreneurs.
Mixpost features
If you are looking to create a SaaS with the theme of scheduling, analytics, and social media, with our software you can launch your SaaS in just a few hours and make money from subscriptions from your customers.
Supported social networks of Mixpost PRO:
Facebook
Twitter
Instagram
TikTok
LinkedIn
Pinterest
Youtube
All features: https://mixpost.app/features
We expected to launch Mixpost PRO in a couple of months (Mixpost PRO Team by the end of Q1, 2023, and Mixpost PRO SaaS by the end of Q2, 2023)
Screenshots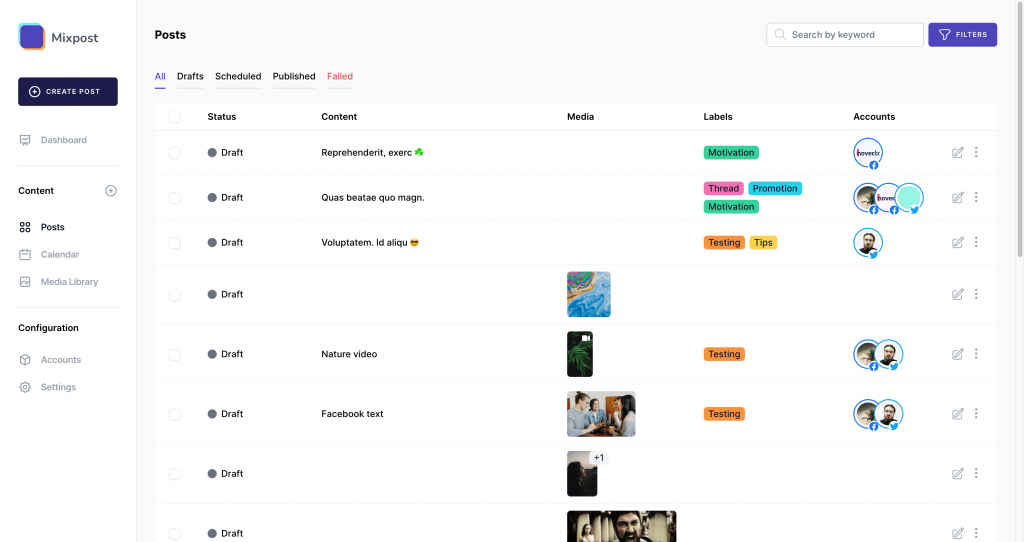 If you have any questions or concerns, please do not hesitate to reach out to us. We look forward to hearing your thoughts!