Sooner or later, every developer inevitably is faced with the need of finding a suitable niche for a designed product or service, so that the end customer purchases it. Nowadays it could rather be a subscription on the product or service rather than literally buying it. From the marketing and economical points of view, the entire development process is considered successful after that process of receiving some profit and satisfying the end customer.
Professionals call it a product-market fit. This is a complex process that can be too time-consuming and involves too many costs if approached without the right strategy. That is why we decided to share with you our own roadmap for optimized and ergonomic process of product-market fit in case of SaaS.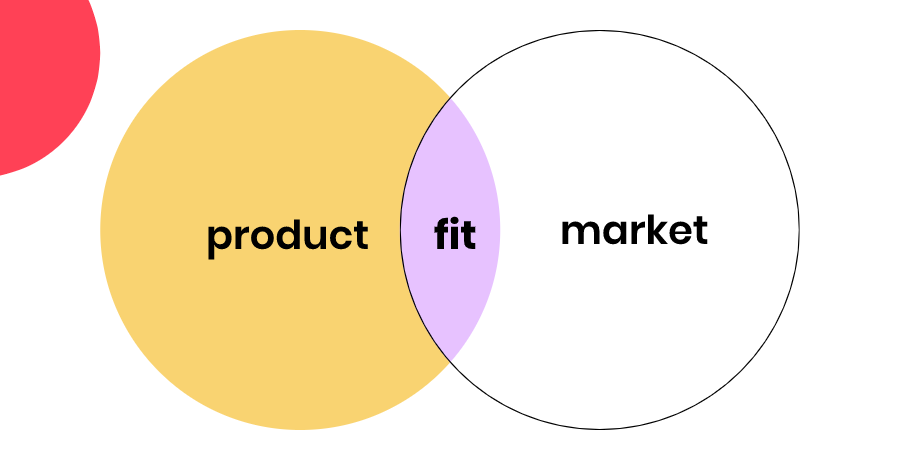 Key Terms and Concepts
When considering any task, it should start by defining key terms and concepts. While this approach may seem quite academic, it ensures that all developing team members 'speak' the same language and mean the same things while discussing the strategies.
In this case two key concepts are used: SaaS and Product-Market Fit.
What is SaaS?
It is an abbreviation for Software as a Service, meaning a way of licensing and delivery of software based on subscription. SaaS is centrally hosted, offering its customers web-based services with a bunch of advantages.
In addition to availability for users by using common operating systems like Microsoft Windows, Apple macOS, Linux, Android and Apple's iOS, SaaS model also offers the constant accessibility of updates that are installed centrally, without requiring any additional actions from the end customer. Also, as a consequence, it ensures the stable and uninterrupted operation of the software, including security and data protection. This issue was discussed in more detail on TechRadar in the article 'What is SaaS? Everything you need to know about Software as a Service'.
What is Product-Market Fit?
As always in the field of marketing, this concept has a lot of streamlined and complex interpretations. The main idea of ​​the Product-Market Fit is that the developed product or service meets the expectations of the targeted audience, which is ready to pay a sufficient but still a competitive price for this product or service for the ability to satisfy its needs.
In essence, the Product-Market Fit means any successful product that finds its customer. This is a fairly organic process: even at the stage of presenting MVP to the targeted audience, it becomes clear whether the designed product or service is the Product-Market Fit or not: this is clearly indicated by the sales and the return on investment and efforts.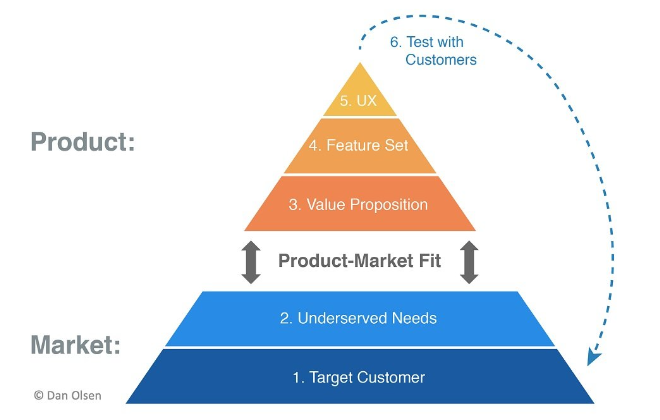 The Product-Market Fit is clearly demonstrated by the pyramid developed by Dan Olsen: in the picture presented, there can be clearly seen the main components of the Product-Market Fit, and also their proportionality, which ensures success even at the MVP stage. Initially, stage 6 was absent in the pyramid, but with the development of the concept, the marketing practitioners realized that testing a product or service together with a targeted audience at the MVP stage gives better results and helps to more accurately determine the strengths and weaknesses in the strategy for further product development.
As it was mentioned before, we decided to share with you our own roadmap of product-market fit in case of SaaS products and services. Where shall we start?
1. Product-Market Fit Survey
When developing SaaS and trying product-market fit, there is an undoubtful need to start with marketing research. Developing team needs to understand that for a high-quality outcome, it is necessary that the results of such a research be representative towards the targeted audience. Only in this way, the data obtained can be extrapolated to all targeted end customers and users.
In the course of research, there is a need to find out the answer to a simple question: what percentage of end users will be disappointed if a developed SaaS product or service becomes unavailable or disappears from the market. Growth and development professionals believe that a successful product-market fit requires at least 40% of targeted audiences to say they will be disappointed in the lack of the discussed SaaS product or service. Developing process should always be oriented towards the audience and their perception of certain needs and problems rather than needs and problems themselves, because developing team visions could be quite different towards the audience's vision.
An example of this approach is the case of Slack. In the course of product-market fit research, 50% of surveyed end users of the service answered that they would be very disappointed if the service stopped working. At the same time, only 10% of the surveyed end users stated that the service was not in any way meaningful and useful for them. The long-term success of the Slack service and its triumphant IPO indicate that the 40% rule works quite great and it is worthy of application for product-market fit of SaaS products and services.
2. Right MVP is a key
It is very important to develop a right SaaS MVP for analyzing the market and audiences' appreciation of the future full optioned SaaS product or service. Right MVP allows to adjust the final SaaS product or service which certainly will be useful for end customers as well as for the market demands. We discussed the successful MVP in our previous article.
3. Maintaining Product-Market Fit
The product-market fit process is endless because customers and market requirements are constantly changing and the product or service must meet them in order to be profitable and successful. To do this, it is necessary to constantly monitor the dynamics of the product or service, correctly evaluate the obtained results and develop smart strategies for further improving and promoting the product or service.
In the early stages of the development of a SaaS product or service, it will be sufficient to periodically do Product-Market Fit Surveys. When the product grows, it will definitely be necessary to involve a specialist - a product manager who can develop some KPI for product development and track them using various analytics tools. At the same time, it is necessary to maintain direct contact with the audience in order to understand their UX (user experience) and adequately respond to audience requests.
Obviously, successful product-market fit demands a constant exploration of new audiences and customer groups in order to ensure sustainable growth of the SaaS product or service.